Ticket Information
ALL SALES ARE FINAL. No Refunds or Exchanges.
About this Event
EVENT ENTRANCE - THIS IS IMPORTANT
Attention race fans. If you have general admission tickets or need to purchase tickets at the event you must enter the track at the South Boundary Road entrance. The entrance off Highway 68 is ONLY for credentialed fans (fans with wristbands and parking passes or hard cards). If you enter off Highway 68 with general admission e-tickets or needing to purchase tickets, you will be re-directed to South Boundary Road. NO EXCEPTIONS!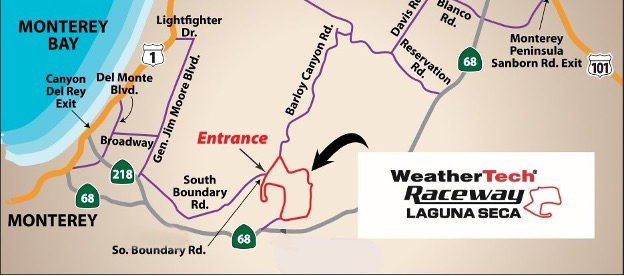 Kids 12 and under get in FREE with paying adult! (EXCLUDES VIP)
MOTORCYCLE PARKING IS FREE!
MotoAmerica Superbikes at Monterey - Laguna Seca Raceway: July 7-9, 2023
One of the most famous race tracks in the world, WeatherTech Raceway Laguna Seca offers incredible viewing areas of amazing racing. Immerse yourself with Friday qualifying and two full weekend days of racing in close proximity to the motorcycles and racers themselves with our open race paddock. This year, more than several activities will turn this event into a motorcycle festival as well as world-class racing. Bring the family and enjoy food, free carnival festivities, a Wall of Death, MX Big Air Freestyle, and racing! Make sure you stop and see the V-Twin Visionary Bike Show. Demo rides by Yamaha, Indian, and Harley Davidson will be offered. Take advantage of multiple ticket options – choose the Saturday Fan Lap option and ride your own motorcycle on the track itself! VIP Suite packages are available including VIP parking and catering. Join fellow fans and over 180 riders competing in multiple classes and experience some of the best competition found in any sport!
FAQs
Box Office Hours:
Thursday 1pm-6pm Gates Close
Friday 8am-6pm Gates Close
Saturday 8am-6pm Gates Close
Sunday 8am-3pm Gates Close
ONCE THE BOX OFFICE CLOSES, YOU WILL NOT BE ALLOWED ENTRY WITHOUT HAVING REDEEMED YOUR TICKET FOR A WRISTBAND AND PARKING OR CAMPING PASS.
When do the gates open and close?
Gates open at 8am for all ticket purchasing and all sales. RV and camping check-in closes promptly at 6pm. Should you arrive after hours, we would ask that you stage your RV until gates open the next day.
What gate will I enter?
All e-ticket holders and those who need to purchase tickets will use South Boundary Road to get to the ticketing gate. The entrance off Highway 68 is ONLY for credentialed fans (fans with wristbands and parking passes or hard cards). If you enter off Highway 68 with general admission e-tickets or needing to purchase tickets, you will be re-directed to South Boundary Road. NO EXCEPTIONS!
Is my receipt my ticket?
NO! All receipts with QR codes must be scanned and redeemed for wristbands that will stay on your wrist for the duration of your stay. If you have a RV or camping pass and a wristband, you are free to come and go as you please.
When can RV campers arrive at the venue?
Reserved RV Campers will be allowed entry Thursday at 1pm (all entrants must have a 3-day weekend pass)
Non-Reserved and tent campers will be allowed entry when gates open at 8am on Friday.
Are there spots for tent camping?
Tent camping on Fox Hill is exclusively for motorcycles. General tent camping is available just before Pope Road. Look for the directional sign. Tent camping is on a first-come, first-served basis.
Fan Lap
The Fan Lap is on Saturday after the final race when the track goes cold. The lap is escorted by the safety car. Helmets are required and a waiver must be signed. No children are allowed on the lap, and you must be 16 and older to participate. Staging for the Fan Lap will be at the designated motorcycle parking area. Please be ready to go at the end of the final race.
Do they race in the rain?
Yes, we do race in the rain.
When is the last day to purchase tickets online?
Tickets are available to purchase online throughout the event.
What day is racing?
The event schedule can be found on our website. The event is a Superbikes double header, so there is racing both Saturday and Sunday.
What time do gates open?
Gates open to the public Friday, Saturday and Sunday at 8am.
Can I have a campfire?
No campfires permitted.
Can I bring Pets?
Yes! Bring your furry friends, but be sure to pick up after them and keep them on a leash.
Can I get a refund?
Unfortunately, refunds are not available so please make sure you read through all selections carefully before confirming at check out.
Event Cancellation and/or Delay Policy at Weather Tech Raceway:
In the event there is lightning or other hazardous weather conditions MotoAmerica will postpone track events until the conditions become safe for participants, employees, and spectators. If hazardous weather conditions or other unforeseen circumstances cause an event to become canceled, the original ticket holder will be able to attend the rescheduled event. No cash refunds will be issued. This policy applies only to original ticket holders who purchased their ticket through MotoAmerica. Resale tickets or tickets purchased through a different ticket provider are not eligible for this policy. This policy only applies if the event is delayed and then canceled. This policy does not apply if the event is shortened by sanctioning body or is delayed and then continues in the same day. This policy only applies if the event is canceled on the day of the event. If the event is canceled at least 24 hours prior to event date then the original ticket holders will be issued a refund.
Please follow the CDC Guidelines to Stop the Spread of Covid-19:
Do not enter if you are experiencing fever, cough, or shortness of breath.
Please remember to practice social distancing. Stay at least 6 feet away from other people.
Wear a cloth face covering in public so you don't spread germs when you talk, sneeze, or cough. Cloth face coverings should not be used on children under 2.
Wash your hands often with soap and water for at least 20 seconds.
Cover your cough or sneeze with a tissue, throw the tissue away, and then wash your hands.
Avoid touching your eyes, nose, and mouth.
Clean and disinfect frequently touched objects or surfaces such as remote controls and doorknobs.
Avoid close contact with people who are sick.
Stay home if you are sick. Call your doctor if you develop fever, cough, or difficulty breathing.